In order to be eligible for a payment, your earnings need to reach at least $50.
First payment
If you had yet to receive any payment from Start.io (Formerly StartApp), we will add up all of your monthly earnings and when they reach at least $50 we will submit your payment on Net45 terms.
Already received payments
If you had already received a payment from us, in order to know when you will receive your next payment there are a couple of steps you can follow.
Step 1
Check the Transaction tab in your Payments Reports section to see the date of the last transaction.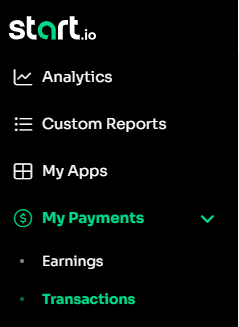 Remember, we pay on Net45 terms, so if the last transaction was in November for example, this payment includes all your earnings until September of that year.


Step 2
Click on the Earnings tab to see your monthly earnings report. Since the last payment you received included up until September earnings (following our example), you should now start calculating your accumulated earnings from the following month, hence, October.
If your October earnings had reached $50, you will receive a payment on the December cycle.
If your October earnings are lower than $50, check back next month to see if your October + November earnings reached the threshold.
You can use the Export option to export your earnings report to excel for easier calculations.




In the example above, the user reached the $50 threshold with his December earnings, meaning he will receive October- December earnings of $75.84 on the February payment cycle.
Important
If the last transaction we submitted had failed, we will resubmit the previous transaction amount + the following month's earnings on the next cycle.