You may view your account balance at any time in both the dashboard and My Campaigns sections of your account.
There are 3 ways to add funds to your account:
Use the Funds tab
Click on the Funds tab, then click on Add Funds.
Use the Dashboard
Click on the Dashboard tab and then click on Add Funds.
Use My Campaigns
Click on the My Campaigns tab.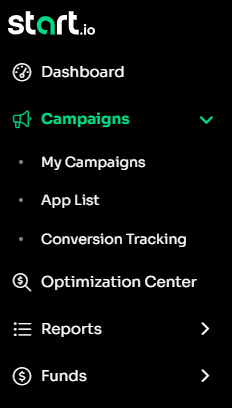 Click on Add Funds on the right side of the screen.

Then choose the amount you want to add (minimum deposit amount is $3000).
Your prepayment is now pending PayPal approval. The funds will be added to your Start.io (Formerly StartApp) wallet once they have been successfully received from PayPal.
Please note that this process is usually quick, but may take a while in some cases for funds to appear in your account.
After clicking "Add Funds", you will be securely redirected to PayPal where you can log in and submit payment.
Please note:
Payment can be made via PayPal through your credit card or PayPal funds.
The minimum amount is $3000.
You may only make one deposit every hour.
After the payment approval process, you will be redirected back to the Start.io (Formerly StartApp) Portal where you can continue working on your campaigns.
Under the "Funds" tab, you can see your transaction history, in the "My Transactions" tab. Learn more about your transactions in this article.