By the end of this article, you will know exactly how and when you will receive payments from Start.io.
So your app is integrated with our SDK and has earned some revenue. But, how do you get this revenue into your pocket?
After adding your payment information, there are 3 major steps in the payment process that are important for you to know.
Step 1: Earn at least $50
A minimum payout of $50 in earnings is required to be eligible for a payment. This is due to costs associated with transferring funds.
If you didn't reach the $50 threshold in your first month, your earnings will be automatically combined with your following month's earnings and will be paid to you once you reach the threshold.
Step 2: Wait 45 days
Payments are sent on NET 45 terms, meaning you will receive your payment 45 days after the end of the latest payment cycle. For example, if you earned $100 in May, the payment will be sent to you 30 days after the end of May, meaning on July 15th.
If you didn't reach $50 in earnings in your first month, the 30 days will be counted from the end of the month in which you've reached an accumulated $50.
Here is an easy chart that can help you determine when you will receive your funds.
| | |
| --- | --- |
| Payment Cycle | Payment Date |
| January 1-31 | March 15th |
| February 1-28 | April 15th |
| March 1-31 | May 15th |
| April 1-30 | June 15th |
| May 1-31 | July 15th |
| June 1-30 | August 15th |
| July 1-31 | September 15th |
| August 1-31 | October 15th |
| September 1-30 | November 15th |
| October 1-31 | December 15th |
| November 1-30 | January 15th |
| December 1-31 | February 15th |

Step 3: Payment in process
Start.io (formerly StartApp) submits payments to the bank at the EST time. It can take anywhere between a few hours to a few weeks to process.
Please take into consideration that banks are closed on Saturday and Sunday, so payments sent on or near these days may entail longer processing times. Processing times can also change depending on your location and payment method. Your payment status will be available on the Transactions tab under the My Payments - Reports section. It will be updated as the transaction is further processed. Learn more about transaction statuses here: My Transactions
Account Status - Payable or not Payable
You can always keep track and know if your account is payable or not payable.
Accounts that are not fully updated will have a red notification on the "My Payments" Section:


When selecting "learn more", you will be able to see the details of the missing data and also have quick access to the "payment settings" in order to complete the missing details: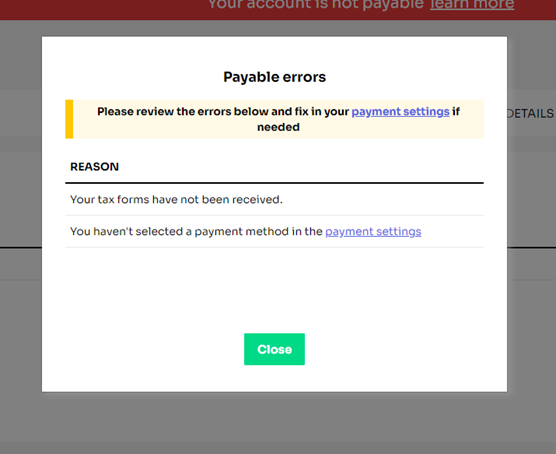 Payment Methods
Start.io (formerly StartApp) has many options that developers can choose as a payment method. It is possible that the method listed here will not be accepted in your country. Check your account's drop-down menu of payment methods to see which methods are available for your payment.
PayPal
PayPal is our preferred method of payment. You simply provide an email address to Start.io (formerly StartApp) and we will send your monthly payment to your PayPal account. You are able to connect a bank account or credit card to your PayPal account.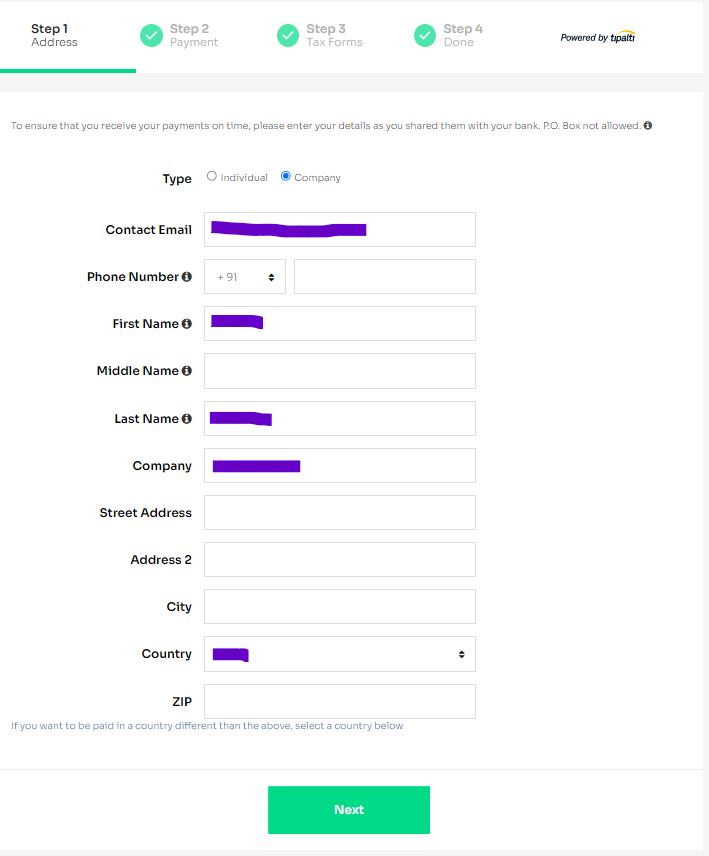 Wire Transfer or eCheck
Wire Transfer and eCheck will send payments directly to your bank account. The process can take up to 7 working days to transfer.
Wire Transfer
A regular wire transfer is available in most countries. Please note that conversion fees to your local currency may apply. Any extra charges will be mentioned when payment currency is selected.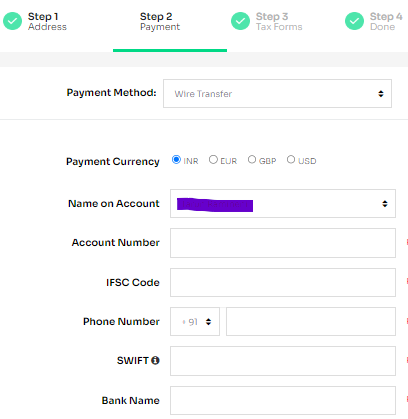 Please be advised that in some countries the minimum payment threshold is $1,030 (instead of the regular $50) for local currency payments. This is due to high conversion rates. If this is the case in your country, you can try selecting USD as the wire payment currency or changing your payment method.

Direct Deposit/ACH (US Publishers Only)
For US based Publishers , there is an option to have direct deposit or ACH. It will appear in your account the same as wire transfer, but less information needs to be entered.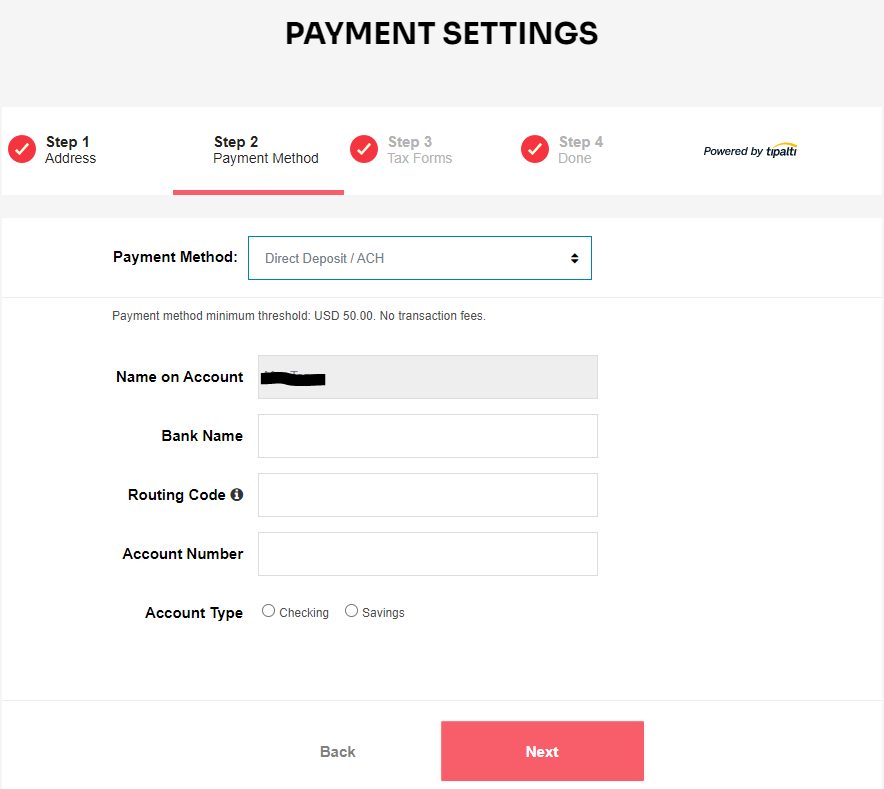 Check (US Publishers Only)
A check will send a paper check to you via postal service.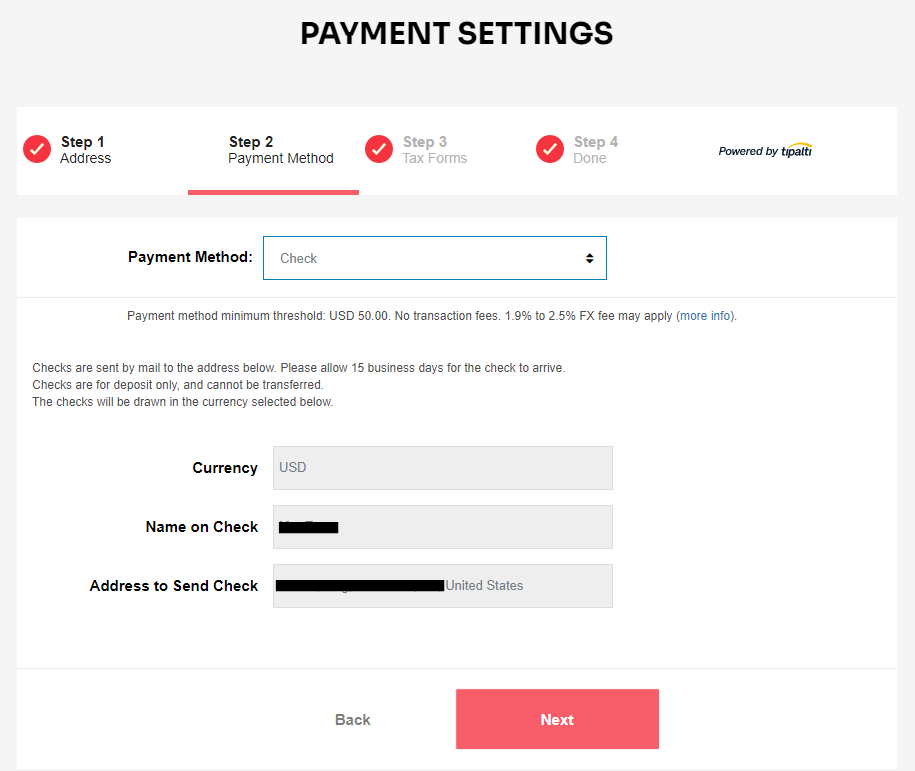 Hold My Payments
If you prefer to wait until payments are sent, you can hold your payments. When you want to send your payments, simply change your payment method to the method of your choice, the payment will be issued on the following payment cycle (For example, if you update your payment details on October 15, payment will be sent on November 15th).
Please make sure to update your payment details until the 20th of the month to make sure it will be sent in the following payment cycle.

Where can I see my payments?
You can see Start.io payment proof in "My payments" --> "Reports" --> "Transactions":