The new Ad Network Certification by Google Play is designed to make children's apps safer. Start.io (formerly StartApp) is one of the very first mobile partners to receive Google's new SDK certification. For publishers and advertisers of family apps, Start.io is the smart, safe, and certified choice. (https://android-developers.googleblog.com/2019/05/building-safer-google-play-for-kids.html)
Start.io (formerly StartApp) is fully COPPA and GDPR compliant, which means no collection of any personal data from children aged under 13 (US) and 16 (EU). The Start.io SDK only supports kid-safe advertising content. All advertising campaigns submitted to the Start.io platform are reviewed and vetted to ensure they are suitable to run on kid-centered apps. As part of the initial approved list for the Google certification program, Start.io is committed to ensuring a safe and appropriate app ecosystem for children and their families.
How to set targeting for kids apps
In order to target kids apps, enter Campaign setting/ Campaign edit - Targeting - Optimization: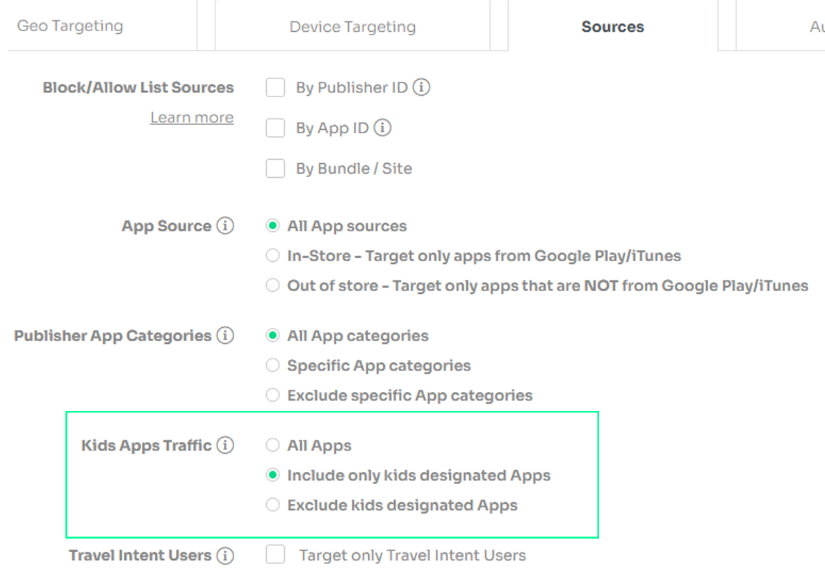 Please be advised that every campaign is manually reviewed. If the campaign is ranked for medium maturity or higher (age 12 +), it will not be served on kids apps.