In order to receive your revenue made by your apps' integration with our SDK, you will need to set up your payment method.
Your payment information needs to be on record and filled in completely so we can process your payment and send your earnings to you on time.
Receive payments on time
You are able to add your payment information at any time, though it is mostly suggested to do so as part of your onboarding process. This way you will prevent forgetting to do so once payments are already due.
If you would like to be paid on the next upcoming payment date and your earnings have met the payment threshold, make sure to add your payment information before the 15th of the month.
For example, if you would like to be paid on November 1st, your payment information must be in our system before October 15th in order to be able to pay you on the November cycle. If you add your payment information after October 15th, it is possible that your payment information will not be validated in time and thus your payment will not be sent until the next payment cycle in December.
Add your payment information
Please note that payment settings can not be done via Mobile, only via PC.
To add your payment information, click on Payments on the left-hand navigation menu, then click on Settings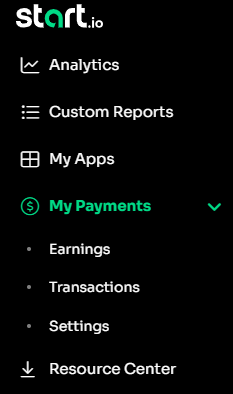 A menu of our payment provider will open. You will need to complete all 4 steps for your payment details to be validated
Step 1: Address
Enter an up-to-date mailing address and additional contact details as they appear on your bank records. This information is necessary for us to be able to send you the information to declare your income in your country for tax-related purposes at the end of each year.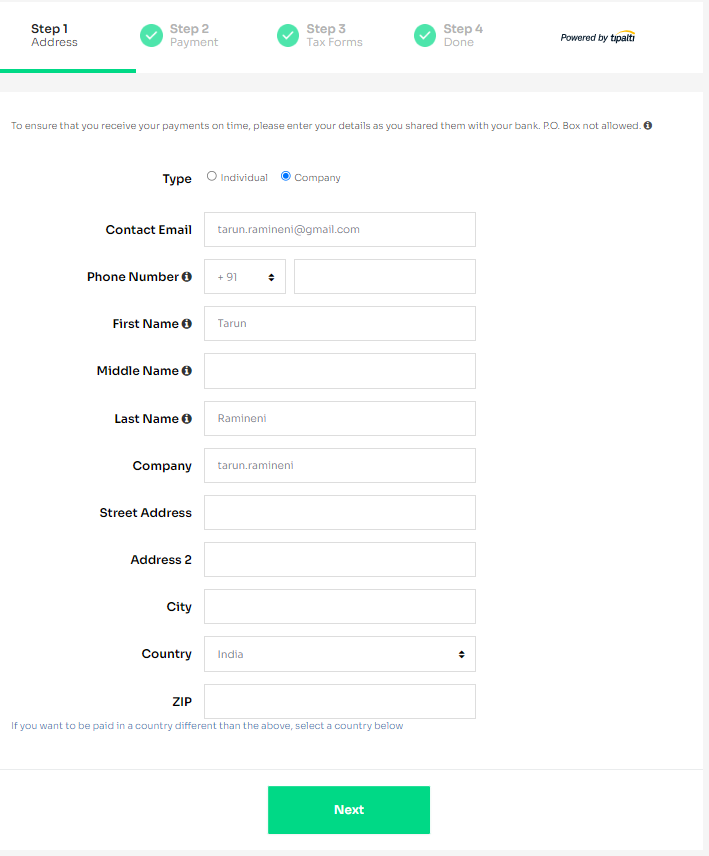 Step 2: Choose payment method
We provide you with multiple options in accordance with your country of residence. Choose a payment method from the drop-down menu and fill in the corresponding information.
For more information about each of the Payment Methods, read our article about them here.
Step 3: Enter tax information
Start.io (Formerly StartApp) is required to collect tax information from all of its publishers. If you are a US person, fill out the form on the US tab. If you are a Non-US Person, you will be directed to the Non-US form.

Step 4: Review your information and submit
Make sure all of the information submitted is correct and matches the details related to your bank account. If needed, ask your back to review the information.
Once you've completed steps 1-3, click on step 4 and see the following message: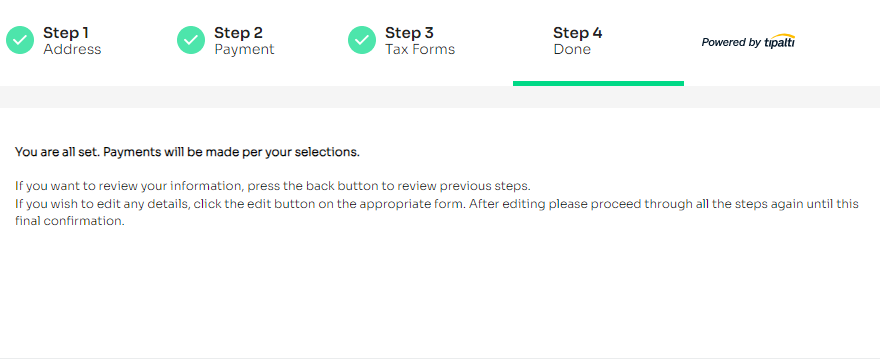 Your payment details are now set up. We will process your payment according to the information provided once you are eligible for a payment.